Emily Kirby works as a lawyer and Project Coordinator at a not-for-profit corporation called the Policy Partnerships Project for Genomic Governance (P3G2), which provides services to health science researchers. She develops ethics and legal documents and tools used to facilitate genomic and big data health research (for example, data sharing policies and agreements, research consent forms, submissions to ethics committees, etc.). Emily also studied in biology (B.Sc. McGill University) and has a master's in Environmental Project Management (M. Env., Université de Sherbrooke). After completing her law degree at Université de Montréal, she articled at a Canadian national law firm, specializing in business law, and worked as a research lawyer at the Centre of Genomics and Policy at McGill University.

Let's start with the basics. Did you always imagine yourself going to law school?

Definitely not. When I finished my science degree at McGill, I felt like I had learned a lot about fundamental biology and the infinitely small workings of the molecular world. However, to me, all this knowledge seemed detached from interactions with our everyday life. Not having clear next steps, and having been told that law school was a good option to open up a wider range of career options, I decided to try out one semester of law school and ended up loving it.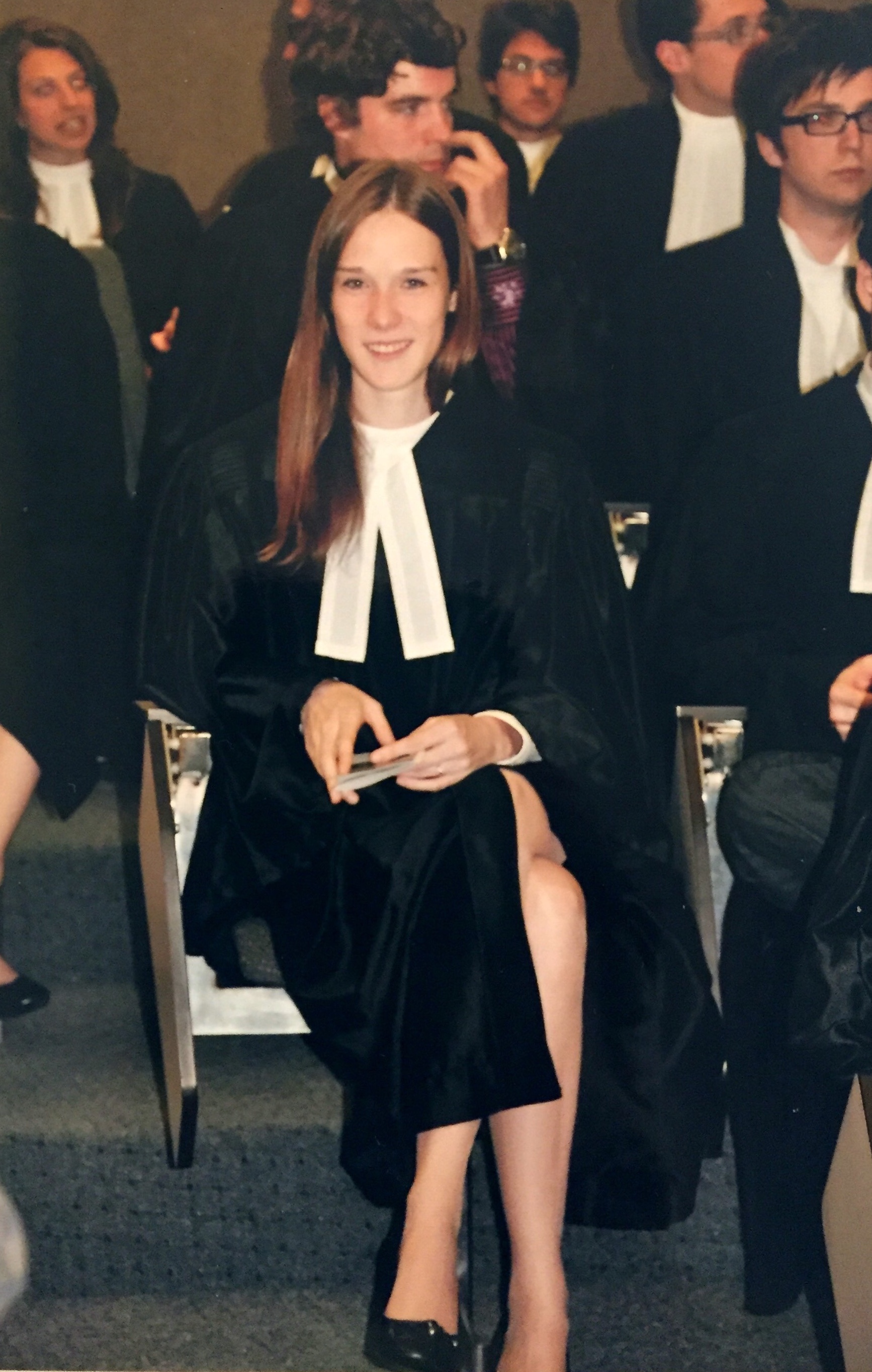 What did the journey from big law to your lawfully uncommon career look like?

When I was in law school, the 'course aux stage' looked like the main path to land an articling stage. I went through the process and ended-up working as a student and articling with a national law firm in Montreal. Even though I thoroughly enjoyed the hands-on learning experience - at the time, I just did not feel that this was the right 'fit' for me.

I've also always had an interest in how law and health sciences intersect. During my years as a student at Université de Montreal, I had worked as an assistant to Prof. Bartha Maria Knoppers for the preparation of a course on medical liability. A few years later, Prof. Knoppers founded the Centre of Genomics and Policy (CGP) at McGill University. After my stage, I joined the CGP team as a research lawyer, which for me was the perfect opportunity to reconnect with my background in biology. Since then, I've transitioned from working as an academic researcher to collaborating more closely with health research teams on developing policy tools to support the ethico-legal facets of their projects. I currently work with a very small, tight-knit team at the Policy Partnerships Project for Genomic Governance (P3G2), a not-for-profit corporation.

What got your juices flowing or tickled your fancy while at law school?

Law school was a challenge, but in a good way. It's nearly impossible to do all your readings and be up to date in every class. But this forces you to develop time management skills and to rely on logical ways of processing information, rather than purely memorizing content.

Also, because everyone is going through this roller coaster together, there is a very strong sense of camaraderie. I met so many smart, passionate and ambitious individuals in the years I spent at Université de Montréal.

What made your blood boil or made you snooze while at law school?

Does Bar School count? I really did enjoy the discussions and debates which are part of many university classes. However, much of that seemed to be a secondary aspect of Bar School training. There's a certain rigidity and procedural aspect to Bar School, that seemed very far from the more intellectually stimulating facets of a legal education. That being said, it is an important step in the process of becoming a practicing lawyer, to make sure future lawyers start with the same baseline training.

Do you still see law all around you?

Yes, but in a very different light. I work in the field of genomics research, where innovation is constant and several different disciplines meet meet (ex. medicine, biology, data science, bioinformatics, etc.). So even though law regulates some aspects of this field (ex. privacy laws, regulation of human health research, regulation of medical care, etc.), there are always grey zones. So I would say, I do still see law quite a bit - but in my line of work, we often find ourselves at the boundary between law and innovative spaces.

You are at a coffee house (a weekly meetup for McGill Law students to have a drink and unwind together) speaking to a first-year law student. What advice would you give them?

At times, law school can be a stressful, competitive environment and can seem to have very narrow career outcomes. But in fact, I would argue what you learn in law school is part of a wider career toolbox: some tools you will use, others you wont. It's always good to chat with people who have not followed a traditional path to remind yourself that a career in law isn't necessarily what you learn in university. To me, university was mainly about building some foundations of legal knowledge and developing analytical skills. But after that, you can get creative and add your own field of interest to your career path.

What does a day in your life look like? Give us the rundown!

I'd say I have a pretty typical 'desk job'. But my office is located in the McGill University and Génome Québec Innovation Centre, so really, I am surrounded by research labs. Every day, I usually have a few conference calls scheduled to work with researchers, clinicians, data scientists, informaticians, and (sometimes!) other lawyers. I work on developing ethical-legal policies for research projects - for example, in cancer research, paediatric research, genomics… So, I continuously learn more about the science and medical discoveries behind the projects I am working on. When you are collaborating with people in different disciplines, there is always a sense that you are part of an exciting, innovative ecosystem. The biomedical research network is also very much international - so as part of my work, I do get to travel to conferences a few times a year and talk to researchers in different jurisdictions.

If you were given the blessing and curse of an extra hour every day to do whatever you wanted, what would it be?

I think, to a certain extent, the vast majority of us legal grads end up spending most of our days in office environments. I do tend to miss spending time outdoors. I think with a few extra house, I'd spend more time in green spaces - it's always a great meditative break from our busy urban environments!

Any regrets? (Yeah, we are retrospective like that)

Not really! I think a career is something you gradually build and it evolves over time. Of course, there will be times when you feel like you are in a rut - be it during law school, or in a given job. The important thing is to keep moving, and learn from all experiences!